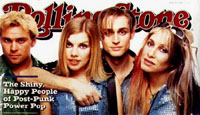 - so asks Tanya Donelly, leader of the rock band Belly - one of the best groups I've ever come across.

I first got into Belly after they performed Seal My Fate and Super-Connected on MTV's 120 Minutes. To say the least, Tanya Donelly & Co. were most impressive. .Quirky lyrics, beautiful vocals, and inspiring guitar work puts this band at the top of my list of favorites...

Tanya Donelly met up with childhood friends, Chris and Tom Gorman to form Belly - named after Tanya's favorite anatomical word. .Belly released their first album, Star in 1993... which set records for holding number 1 so long on the college radio charts. .They were nominated for Best New Artist and Best Alternative Album (Star) at the '94 Grammy Awards.

Although they didn't take home the Grammy that night, on April 5, 1994 Belly won the Best Modern Rock Act and the Debut Album of the Year categories at the Boston Music Awards.
---
Belly :
| | |
| --- | --- |
| TANYA DONELLY | vocal and guitar |
| GAIL GREENWOOD | bass and vocals |
| THOMAS GORMAN | guitar and piano |
| CHRISTOPHER GORMAN | drums and percussion |
---