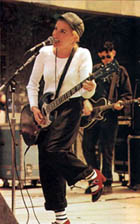 Check out Tanya's effects pedal settings!


Tanya Donelly/ Belly Tribute Album Project!

Like many people, l was inspired to learn guitar by Tanya Donelly and Tom Gorman! Naturally, I wanted to be able play their songs... The tablatures available on this site are based on posts from the OnLine Guitar Archive (OLGA) and the Belly/Tanya Donelly Mailing List.
Please send corrections/new tablature to sealmyfate@wiw.org.
YOU WILL BE GIVEN CREDIT FOR YOUR WORK!